At a recent happy hour event, I exchanged numbers with someone for potential business. I immediately recognized the area code being out of state (San Francisco, California 415). This information immediately led to a bunch of other assumptions about the person as well. This got me thinking about area codes as a whole, and I decided to research the history of area codes.
The History of Area Codes
For many of us, area codes are just a necessary part of making a phone call. We don't think about where they come from or what they mean. But area codes were part of the plan in the mid-20th century to accomplish long-distance dialing without the need for an operator to connect the call manually. The first area code was assigned in 1947 to the state of New Jersey. At the time, only 86 area codes covered the United States (77) and Canada (9).
When area codes were first introduced, they were set up so the highest populated areas would be the easiest to dial on a rotary phone. New York was 212, Los Angeles 213, Chicago 312, and Detroit 313. States needed the middle digit to be a 0 or a 1. If a state had multiple area codes, its middle digit was 1. If it only had a single area code, its middle digit was 0.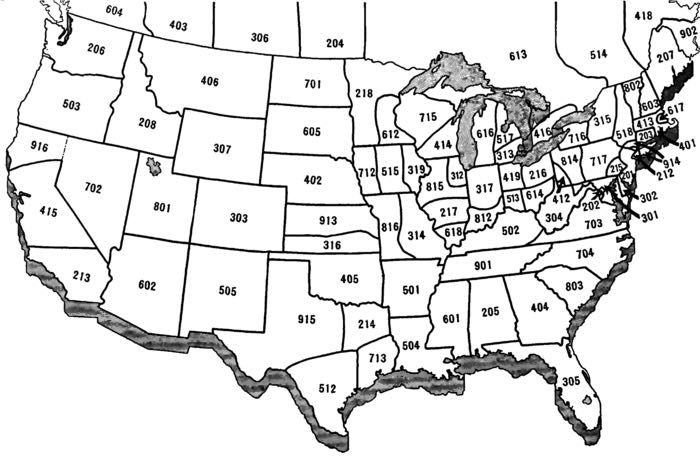 Phone Numbers and Area Codes Today
Today, there are 317 geographic area codes in the United States and an additional 18 non-geographic area codes totaling 335 US area codes. The numbers don't line up as neatly as in the interstate system. For example, New York City area codes are 212, 718, 917, and 646.
Canada has 40 geographic area codes and two non-geographic area codes, bringing the total number of area codes dedicated to use in Canada to 42 (there is also toll-free).
**A little bit of fun area code trivia, the area code 321 belongs to the area of Florida known as the Space Coast, near Cape Canaveral and Kennedy Space Center, due to it sounding like the countdown for a rocket launch.
Area Code (Prestige)
Next time you're getting someone's phone number, play a game, see if you can recognize where it's from and if any assumptions are made past that point. I recently did just this with a colleague. He and his family have some of the original 903 phone numbers issued for mobile phones. He was proud of this fact. I've ran into users of ours that specifically wanted an original New York City area code as that carried certain status.
Usually, an area code ties someone to where they grew up, and most people don't change numbers.
Many businesses and professionals will opt to get a second local phone number to match the market they are in. This helps with familiarity and builds trust. If you are looking for a business phone number, we have helped thousands of businesses do just this. You can get your business phone number here.