Dialpad is a VOIP solution for businesses phone communication. They just raised a funding round of 100m. Dialpad offers a lot of features that mid sized to some of the largest companies in the world use. Uber is one of Dialpads customers. If you're a small business, you need to ask yourself if a phone service like this is best for your needs.
In this post we'll go over Dialpads use case and why it might not be the best fit for you as a solopreneuer.
Pricing
Dialpad starts off at $25 per month. If you have a few seats on your team, this can be a costly expense for a small team. This just gets you the basic features. To add more features you can pay up to $35 per month per user.
While some of the features they offer with this service are great, they aren't intended for small businesses or solo entreprenuers.
For comparison, Reach is only $10 per month for user. These savings add up over time.
Product Bloat
We believe in simplicity at Reach. With expensive products comes more features which ultimately takes away from the user interface. There will be a ramp up period for learning how to use Dialpad. Reach offers a simple experience similar to the one you are currently used to on your smartphone.
If you ever find yourself paying for additional features that you rarely used, ask yourself how they are adding to your user experience.
Who is Dialpad intended For?
Dialpad is intended for larger organizations who have many different use cases. This doesn't always align with small businesses. With Reach, if you have a feature request, it's something we will prioritize because small businesses and solo entrepreneurs is our entire user base.
Support
You're just not going to get the same level of support from large companies. Smaller companies by default are able to focus on their all of their customers needs and wants. Dialpad was originally built to replace landlines which is a large portion of their customers.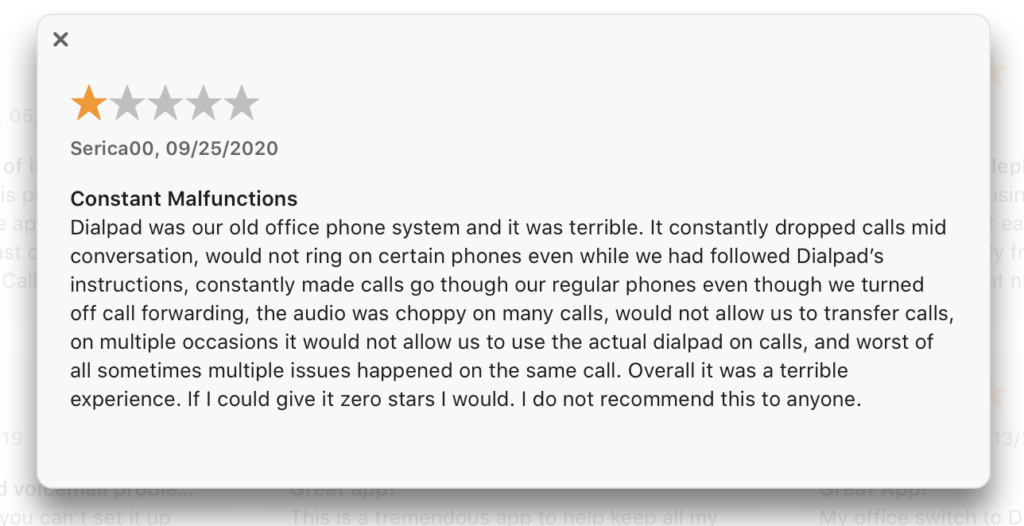 Alternatives to Dialpad
Reach Business Phone was built for solo entrepreneuers and teams up to 5. If you fall in this category we offer features we think you will enjoy. Here are some:
Unlimited Calling / SMS / MMS
Business Hours w/ Auto Responses (do not disturb while outside of hours)
Away Messages w/ Auto Responses (similar to email)
Shared Phone Numbers
Shared Contact Book
Multiple Local Numbers per account
If you are an individual or small team and you are dissatisfied with Dialpad, feel free to reach out to our porting channel and we can help you with the process.
As always if you have any questions you can text me at 903-781-1437☎️