When starting a business you will have a long list of tasks to be done before opening day and at the top of that list is getting a phone number for your business.
Since acquiring Gizmo5 in 2009, Google Voice has been one of the go-to phone solutions for many small business owners, solo entrepreneurs, and freelancers. Google Voice was the mobile version of Skype, a way to get a free number on your mobile phone to call and text. But since 2009, the mobile VoIP technology landscape has changed a lot, let's find out if you should still be using Google Voice for business in 2021 or is there a better Google Voice Alternative.
How Does Google Voice Work?
Google Voice is a VoIP phone service that works with your internet connection vs the traditional cell phone towers. To use Google Voice, you need an internet connection and a device to access the application such as a computer, smartphone or tablet.
You must first have a Google account to set up Google Voice, then choose a number offered or you can port an existing number. Once you've chosen your number, you can begin to make calls and texts just like any other phone.
With your Google Voice number, you are able to forward any incoming calls to another phone number that you own. This can be a landline in your office or home or your mobile phone number. This can help manage the calls you receive and when you receive them.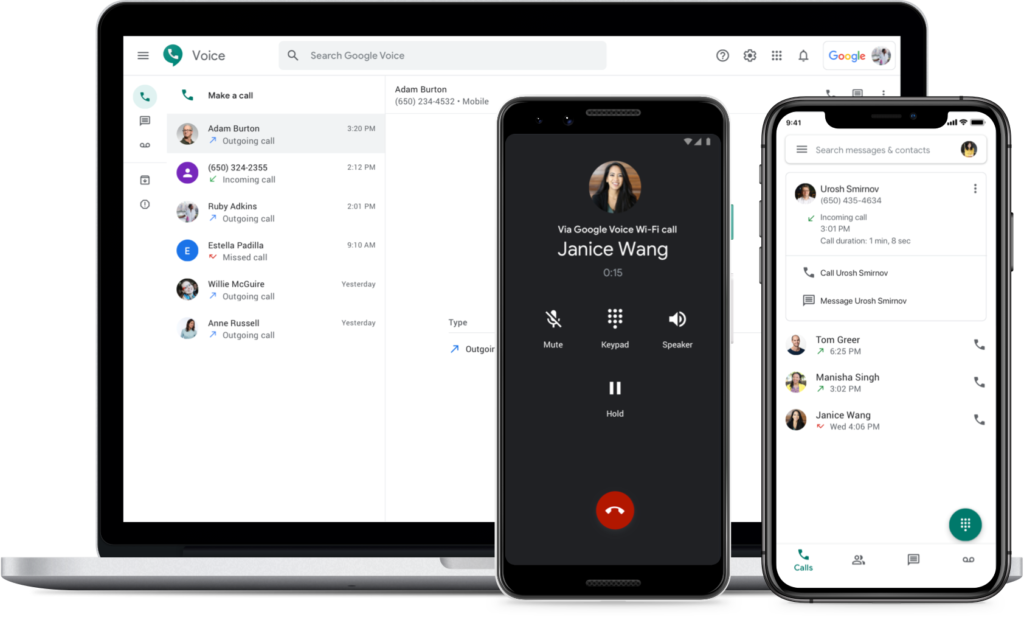 What are the features of Google Voice?
The features for google voice are:
An additional phone number
Unlimited Calling & texting to the US
Voicemail transcription
Call Forwarding
Step by Step Setup of Google Voice
Let's walk-through how to setup Google Voice for your business.
Go to the Google Voice website at voice.google.com
If you have a Google account you can use it but if not you can create one here.
Then are to the fun part of finding a new phone number. Google Voice offers local numbers in the US only. It does not offer 800 numbers or Canadian numbers, but if you are looking for a company that supports 800 numbers and Candian numbers check out Reach Phone.
Once you have found your phone number, click Select.
You will now have to verify your identity by receiving a verification code at your existing phone number. Your phone number will have to be a US-based phone number for the verification to work.
Download Google Voice from your mobile devices app store and start making calls. You can also use Google Voice on your computer via their web app.
Why would I use Google Voice For Business?
Google Voice Business Use Cases:
Privacy
You should never use your personal cell phone number for business. Google Voice lets you forward your business phone number, which is your Google Voice phone number, to your personal cell phone. This keeps your personal number private. You can also configure what times the forwarding is active to help with your work / life balance.
Local Numbers
Having a local number where you do business helps develop trust with the customers you are calling. You can even have multiple phone numbers for different areas again to help manage the flow of phone numbers.
Customer Service
You can offer your Google Voice number for phone support on your website or directly to your clients. Having an 800 number would be better if you support clients across the US, but Google does not support 800 numbers but there are alternatives like Reach Phone.
What are the cons of using Google Voice for Business?
Since Google Voice is a free product, it comes with limitations. There is virtually no support and Google actually recommends you shouldn't use the free version of google voice for business.
You can't separate your contacts
Google Voice uses your smartphone device's address book. Add a contact in Google Voice, it's going in your smartphone.
Caller ID is questionable
With google voice you have two options.
You can have it display the number or the contact who is calling on your smartphone (you won't know it's a google voice call)
You can have it display your Google Voice number (you'll know it's a business call but you won't know who is calling)
It doesn't grow with your business
You can only have one user per phone number. Once you start growing you will run into scaling issues.
No HD Call Quality
Since most networks are upgrading their devices and plans to 5g, HD calling is becoming a must for businesses that are looking for crystal clear phone calls. Google voice does not currently support HD calling so you may run into call quality issues which is the worst when dealing with customers.
No integrations
Most businesses use some sort of CRM to manage all of their workflows. Google voice doesn't currently offer any integrations. If you're looking for automatically syncing calls or texts to a CRM, google voice is not for you.
Why Reach Phone is a Better Alternative to Google Voice
Reach Phone was built specifically for you the small business owner. Many frustrated Google Voice owners have ported their number into Reach Phone. Here are a few reasons why:
Reach Phone offers amazing customer support
Have an issue? Text us in-app or support@reachphone.co. You'll get a response in minutes.
Shared Phone Numbers
Reach Phone offers individuals the ability to share their numbers with an assistant. This helps you team up on your business conversations or task them out to someone else.
Call Analytics
Reach offers voice recording, call numbers, and metrics to help you track all of your conversations.
Integrations
Reach offers Zapier integrations to help you get your conversations into your daily workflow saving countless hours of manual entry.
Call Quality
Reach was built with the latest technology when it comes to voice calls. Expect crystal clear call quality when using Reach Phone.
Privacy
Google Voice is a data company just like all other social apps: all your confidential communication information (calls, call logs, messages, voicemail, etc.) is stored on Google servers, side by side with the rest of the info gathered about you by Google. Whether you want to share the privacy of your conversations and messages with Google is for you to decide, but it turns out your personal data isn't strictly private when it comes to any free social service like Google.
Small business owners need to consider all of the factors when choosing a phone number and service for their business. While Google Voice has some appeal due to the service being free, you'll quickly run into limitations. In 2021, there are more powerful options that won't break the bank.